Become a Technical Support Engineer
Start a career as a Technical Support Engineer and a Microsoft 365 specialist.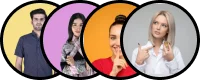 Who is a
Technical Support Engineer?
What you will learn
in this course



Earn a Beacamp Support Engineer Certification
Upon completing Beacamp's support engineer course, you'll receive an industry-recognized, professional technical support engineer certification to share with your network and showcase all you've learned. Beacamp certificates are formatted for sharing on LinkedIn.
A tech professional with over 5 years of industry experience spanning software engineering, cloud DevOps, and technical support.
Starting his journey at RAD5 Tech Hub, Vincent Iroleh moved to mentor aspiring cloud professionals at Udacity before landing his current role as a Technical Support Engineer at Microsoft. He is known for his exceptional problem-solving skills and empathetic customer assistance.
Vincent is now excited to share his wide-ranging knowledge and experience at Beacamp.
Choose the right plan for you
Monthly access until bootcamp ends
Full access until bootcamp ends (2 months)